MBBS Admission in Bangladesh 2024-25
MBBS Admission in Bangladesh 2024-25
MBBS admission process in Bangladesh 2024-245, Study MBBS in Bangladesh, Direct MBBS Entry 2024
Dream Careers Consultancy
The desire to pursue a medical career is not only about passion but also about making informed decisions concerning one's education. With globalisation, students are no longer restricted to their home country for seeking quality education. One such promising destination for medical aspirants, especially from India, is Bangladesh. Here's why:
Direct MBBS Entry 2024: The No-Entrance Paradigm
Bangladesh offers a unique advantage to international students: a direct MBBS admission process for the 2023-24 academic year. This means students can avoid the highly competitive and stress-inducing entrance exams that are commonplace in many countries, including India. By opting for a no-entrance MBBS admission, students can streamline their journey into the medical field.
Affordable Yet Quality Education: MBBS Fee Details 2024
One of the primary concerns for students and their families is the financial aspect of medical education. Bangladesh, with its affordable MBBS fees, makes quality medical education accessible. Premier medical colleges in the country offer transparent fee breakdowns, ensuring there are no hidden costs. This transparency is particularly beneficial for international students, ensuring they get value for their money.
India vs. Bangladesh: Why the Shift?
Bangladesh's medical curriculum closely mirrors that of India, ensuring Indian students face no significant challenges in adapting. The infrastructure, teaching methodology, and hands-on training provided in Bangladeshi medical colleges are commendable. The added advantage of cultural and geographical proximity makes Bangladesh a top choice for Indian students.
Top Medical Colleges: Quality Meets Affordability
Several medical institutions in Bangladesh stand out not just for their curriculum but also for their comprehensive training methodologies:
Army Medical College Jashore & Medical College Bogura: Renowned for disciplined academic training and state-of-the-art infrastructure. These colleges offer a holistic medical education experience, blending theoretical knowledge with extensive practical exposure.
Diabetic Association Medical College: Pioneers in diabetes research and treatment, offering students an opportunity to specialise early on.
Sylhet Women's Medical College: A leading institution focusing on empowering women in the medical field, fostering a sense of community and support.
Popular Medical College & Shaheed Monsur Ali Medical College: These institutions provide quality medical education, ensuring students are industry-ready upon graduation.
Islami Bank Medical College: Known for its dedication to producing world-class doctors, this college emphasizes both on modern medical practices and values.
Authorized Consultant of Medical Education
Dream Careers Consultancy: Your Authorized Gateway to Medical Education
Dream Careers Consultancy, we believe that the path to achieving your medical dreams should be clear, uncomplicated, and guided. As the authorized consultant of medical education, our sole mission is to bridge the gap between aspiring medical students and their dream medical institutions.
Why Choose Dream Careers Consultancy?
Experienced Guidance: With years of industry experience, our consultants have the insights and knowledge to guide you through every step of your medical admission journey.
Authorized Affiliations: Our status as an authorized consultant for medical education ensures that all information and guidance provided to you are genuine, up-to-date, and recognized by leading medical institutions.
End-to-End Support: From selecting the right medical college, understanding the intricate admission process, to securing your place, we are with you at every step.
Services Offered
1. Admission Guidelines:
Eligibility Criteria: Age, academic qualifications, and other eligibility factors.
Application Procedure: Details about how to apply, required documents, and deadlines.
Admission Quotas: Information regarding any quotas or reserved seats.
2. Exam and Scores:
Entrance Examinations: Information about entrance tests (if applicable).
NEET Scores: Requirement and acceptance details for Indian students.
Score Validity: Timeframe for which the entrance scores are valid.
3. College Insights:
College Profiles: Highlights of various medical colleges in Bangladesh.
Rankings: College and university rankings based on various factors.
Alumni Success Stories: Successful professionals who graduated from Bangladeshi medical colleges.
4. Course Details:
Course Curriculum: Subjects and specializations offered during MBBS.
Duration: Course length and semester details.
Internship Opportunities: Insights into practical experience during the course.
5. Financial Aspects:
Fee Structure: Detailed fee breakdown of various colleges.
Scholarships: Information about available scholarships and financial aid.
Cost of Living: Expected living costs in Bangladesh.
6. Student Life:
Accommodation: Hostel facilities and living conditions in and around colleges.
Campus Facilities: Infrastructure, labs, libraries, and other campus amenities.
Extra-Curricular: Opportunities beyond academics – clubs, sports, and other activities.
7. Legal Formalities:
Visa Process: Guidelines for securing a student visa for Bangladesh.
Legal Documentation: Information about necessary legal documents.
8. Post-Graduation Prospects:
Specialization: Opportunities for specialization after MBBS.
Career Paths: Possible careers after graduation.
Alumni Network: How the alumni network can help in career building.
9. Cultural Insights:
Cultural Adaptation: Tips and advice for adapting to Bangladeshi culture.
Language: Basic language tips and the importance of learning Bengali.
10. Health and Safety:
Healthcare Facilities: Health services available on and off campus.
Safety Guidelines: Information about staying safe in Bangladesh.
11. Reviews and Testimonials:
Student Reviews: Experiences shared by current students or alumni.
Parent Testimonials: Insights and experiences from the parents' perspective.
12. FAQ and Queries:
Common Questions: A section addressing frequent inquiries.
Contact Information: Details for reaching out with further questions.
13. Updates and Notifications:
Admission Updates: Latest news related to MBBS admissions.
Event Calendar: Important dates and events related to the admission process.
Medical College Selection: Based on your qualifications, preferences, and budget, our experts will help you shortlist the best medical institutions that align with your aspirations.
Admission Assistance: Navigate the complex web of medical admissions with ease. Our team will ensure your application stands out and meets all institutional requirements.
Fee Structure Insights: With our in-depth understanding of fee structures across renowned medical institutions, you'll be equipped with all the financial details you need to make an informed decision.
Counselling Sessions: Our personalized counselling sessions are designed to understand your career goals and align them with the best medical education paths available.
Affiliated Medical Institutions
We're proud to be affiliated with premier institutions such as: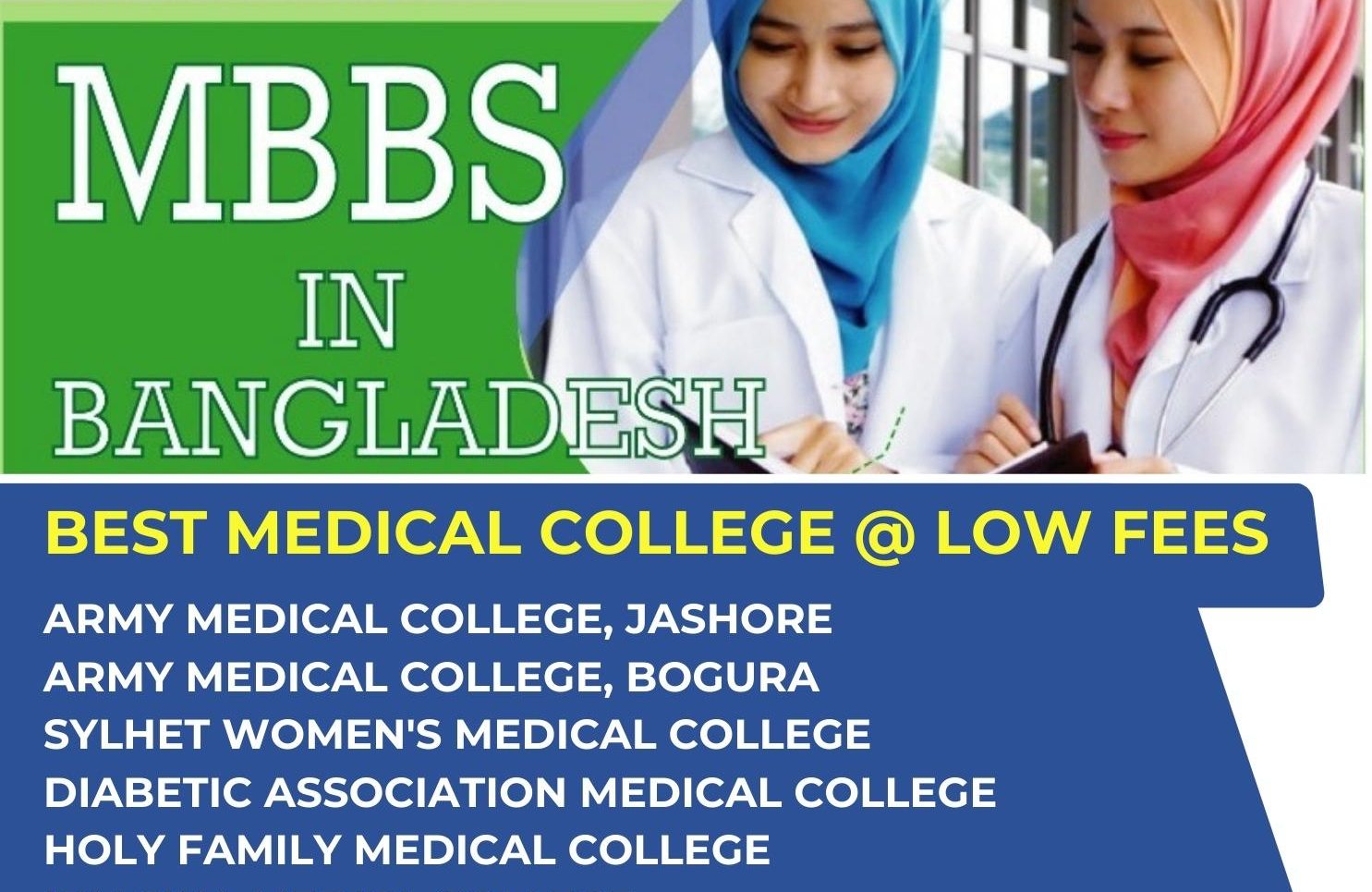 Army Medical College Jashore
Army Medical College Bogura
Diabetic Association Medical College
Sylhet Women's Medical College
Popular Medical College
Shaheed Monsur Ali Medical College
Islami Bank Medical College
Testimonials
"Dream Careers Consultancy made my medical admission process so seamless. Their experienced consultants ensured I got into my top-choice medical college." – Aarav S., Aspiring Doctor
Get Started with Your Medical Dream
If you're an aspiring medical student, waiting to carve out your niche in the world of medicine, look no further. With Dream Careers Consultancy, you're not just getting a consultancy service; you're aligning yourself with a partner who will stand by you in your journey to becoming a doctor.
MBBS admission process in Bangladesh 2024-25
Dream Careers Consultancy: MBBS Admission Partner
Embarking on a medical journey abroad can seem daunting, but with the right guidance, it becomes a smooth process. Dream Careers Consultancy stands out as a trusted name for aspirants looking to study MBBS in Bangladesh. Their transparent procedures, in-depth understanding of the Bangladeshi medical education landscape, and unwavering commitment to students' futures make them an invaluable partner in your MBBS journey.
Step-by-Step MBBS Admission Manual
From understanding the eligibility criteria to getting insights into hostel accommodations, the admission process involves several steps. But fear not! With comprehensive guides available, students can navigate this path with ease. These guides, combined with expert counsel from consultancies like Dream Careers, ensure a hassle-free admission process.
The 2024 academic year promises a multitude of opportunities for MBBS aspirants. With Bangladesh emerging as a preferred destination for quality and affordable medical education, the future indeed looks bright for medical students. So, gear up, seek the right guidance, choose the best institution, and embark on a rewarding medical journey in Bangladesh!
Why Indian Students Prefer Bangladesh for MBBS?
It's not just about affordability or geographical closeness; it goes beyond these obvious factors. Here's a deeper dive:
Cultural Affinity and Language Compatibility
Studying in a foreign country can bring forth several challenges, primary among them being cultural and language barriers. However, Bangladesh, with its cultural similarities to India, ensures that Indian students feel at home. The medium of instruction being English in medical colleges, and with many locals conversant in it, language doesn't become an obstacle in the learning journey.
World-Recognized Medical Degree
Medical colleges in Bangladesh are recognized by global bodies like the World Health Organization (WHO) and the Medical Council of India (MCI). This ensures that the degree earned is not just valid in Bangladesh but holds value internationally, allowing students to pursue further studies or work anywhere in the world.
Practical Exposure and Internship Opportunities
Bangladesh's medical colleges emphasize hands-on training. With hospitals attached to the colleges, students get ample exposure to real-world clinical scenarios. The internship programs are robust, ensuring students graduate with not just theoretical knowledge but also with practical skills that set them apart in the global medical arena.
Safety and Security
The safety of international students is paramount in Bangladesh. With dedicated hostels and campuses that are closely monitored, the environment is conducive to learning without concerns for personal safety. Moreover, the warmth and hospitality of the local populace make the experience even more pleasant.
MBBS Without Entrance Test: A Game-Changer
The very idea of bypassing high-pressure entrance exams is a breath of fresh air for many students. Bangladesh's policy of direct admissions for MBBS ensures that a student's dream isn't curtailed by one exam. It looks holistically at a student's academic performance, making the process more inclusive.
Transparent Medical College Fee Details with Fortune Education
Understanding the fee structure is crucial when planning to study abroad. With the help of consultants like Fortune Education, students can get a clear breakdown of costs. From tuition fees to accommodation charges, everything is laid out transparently, ensuring families can budget accurately.
The Journey with Trusted Consultants
Navigating the admission landscape in a foreign country can be complex. But with seasoned consultants by your side, it becomes manageable. Whether it's Dream Careers Consultancy or Fortune Education, these entities have years of experience in guiding students towards their MBBS dreams in Bangladesh. Their insights, combined with their associations with top medical colleges, ensure students get nothing but the best.
In Summation
The decision to study MBBS abroad is significant, and Bangladesh, with its blend of quality education, affordability, and cultural compatibility, emerges as the top choice for many. As the 2023-24 academic session beckons, arm yourself with the right information, align with trusted consultants, and set forth on a transformative medical journey in Bangladesh.
Highlighting Premier Medical Colleges in Bangladesh
While the decision to study MBBS in Bangladesh offers numerous advantages, the choice of the medical college plays a pivotal role in shaping the academic journey.
Premier Medical Colleges in Bangladesh
While the decision to study MBBS in Bangladesh offers numerous advantages, the choice of the medical college plays a pivotal role in shaping the academic journey.
Army Medical College Jashore & Bogura
Both these institutions stand as a testament to excellence in medical education. Affiliated with the armed forces, they not only offer rigorous academic training but also instil values of discipline and integrity in their students. With state-of-the-art infrastructure and a dedicated faculty, these colleges provide a holistic environment for medical studies.
Diabetic Association Medical College
Focusing on a specialized domain, this college offers unparalleled insights into diabetes and its associated ailments. It provides students with a unique opportunity to gain hands-on experience in managing and understanding one of the world's most prevalent diseases.
Sylhet Women's Medical College
Promoting women's empowerment in the field of medical sciences, this institution stands out for its dedication to fostering female leaders in healthcare. With its world-class curriculum and infrastructure, it's no wonder that many female students from India find their calling here.
Popular Medical College
Living up to its name, this college is indeed a popular choice among international students. Its contemporary teaching methods, combined with a strong emphasis on clinical training, make it a sought-after institution.
Shaheed Monsur Ali Medical College & Islami Bank Medical College
These colleges, with their commitment to excellence, have carved a niche for themselves in the Bangladeshi medical education landscape. Their comprehensive curriculum, seasoned faculty, and modern facilities ensure students receive a well-rounded medical education.
MBBS Fee Unveiled: Affordability Meets Quality
One of the standout features of pursuing MBBS in Bangladesh is the affordability. Even premier institutions have a fee structure that's reasonable, ensuring that quality education isn't burdensome on the pockets. When you juxtapose this with the high tuition fees of medical colleges in other countries, the value proposition becomes even clearer.
MBBS Fee Unveiled: Affordability Meets Quality
One of the standout features of pursuing MBBS in Bangladesh is the affordability. Even premier institutions have a fee structure that's reasonable, ensuring that quality education isn't burdensome on the pockets. When you juxtapose this with the high tuition fees of medical colleges in other countries, the value proposition becomes even clearer.
Study MBBS in Bangladesh
Study MBBS: India vs. Bangladesh
While India has its share of esteemed medical institutions, the intense competition and limited seats often leave many deserving students without options. Bangladesh offers a viable alternative. Not only does it provide quality education, but its direct admission policy without an entrance test levels the playing field for many.
Comprehensive MBBS Admission Guide with Fortune Education
Fortune Education plays a crucial role in simplifying the admission process for aspiring students. Their end-to-end services, ranging from providing accurate college insights, handling paperwork, to even assisting with accommodation, ensures that students' transition to a new country is seamless.
Conclusion
As the 2023-24 academic session approaches, students have a golden opportunity to turn their medical dreams into reality in Bangladesh. With its esteemed institutions, supportive policies, and a backdrop of cultural and linguistic similarity, Bangladesh is set to continue its reign as a top destination for MBBS aspirants from India.